Security doors
Feeling safe inside your home is a key factor, that has a lot to do with your own comfort. This is why we have realized three lines of security doors, different for technical features, designed and certified to provide the right degree of safety inside houses. In our stores you will discover components and many aesthetic solutions we display, and, thanks to that, understand the quality of our products, whcih are made with the finest raw materials and the most sophisticated technical operations. You will also discover the factors that influence the price of each single model, in order to make the best decision that suit your needs.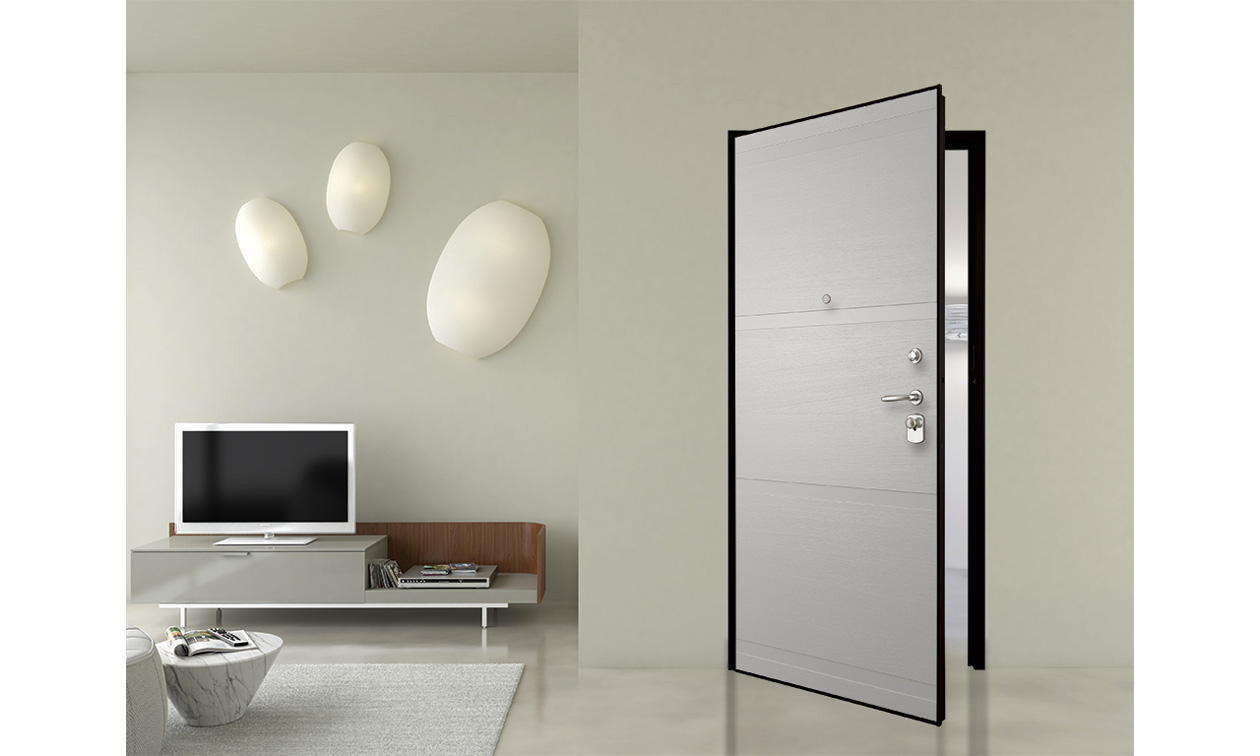 Armored door features
But how to choose the perfect security door? Armoured steel doors must be created following specific rules, regarding thermal transmittance, acoustic insulation and, of course, burglary resistance. Apart from being a barrier to intrusions, thanks to special front door locks and resistant surfaces, they have to improve the thermal comfort of your house, isolating it from the outside, protecting in this way the building from the atmospheric agents. Last but not least, they have to keep the noise away, isolating the house also acoustically. These three features are summarized in classes, values and units of measurement, which have to be chosen according to your specific needs.
Armored door class
In order to correctly evaluate the quality of our security reinforced doors and, therefore, their safety and robustness, our products are tested according to European rules, which simulate intrusion attempts and evaluate the load or manual burglary resistance of the doors and their front locks. The results of the different tests will then identify the doors' resistance class. According to the law, there are six security classes, from 1 to 6, in an increasing order of resistance. Our models can be placed in classes from 3 to 4, ideal for major residential typologies, such as flats and single-family houses. You must pay attention, while evaluating your own risk conditions, depending on the context in which you live and in the quantity of valuable good you possess, in order to correctly identify the level of security you need.
Armored door lining
If we have so far considered the different technical features of the our security front doors, it is equally important to know the covering materials we have selected for our collections. If the armoured door is directly in contact with the outside, we need to use stable, weatherproof panels, such as our pantograph panels in essence, made with plywood or various aluminum or pvc finishes, which are guaranteed for almost five years of color stability. Instead, our safety doors can fit panels belonging to any model of our collections, in order to match the aesthetic elements of your house and choose your interior fixture style.
Standard measures armored doors
With the unique design of our security front doors, avaiable in a wide range of aesthetic solutions and excellent technical performances, we also added different dimensional alternatives, which can suit the various architectural conformations of modern houses. The standard sizes we offer are 80, 85 and 90 cm wide and 210 cm high. Our doors are available with a swinging panel, either right or left; but we also offer double-door variants and solutions with glass sections, in order to meet both the architectural design and the need to bring light into the environments.
Double door armored doors
The construction or renovation of an independent building can include particular aesthetic exterior details, which can exalt the entrance of the house with elements such as large and tall openings, which require double-door security solutions, possibly covered with peculiar and precious finishes. Our collections include solutions with various dimentions and high customizable options, which can suit specific design requirements. From the point of view of the security, we have also studied a special line of class 4 anti-theft windows, equipped with special window locks.
Armored doors with glass
When it is necessary to integrate the natural illumination of the house, for example in the case in which windows are missing or their size is not enough to suit the light requirements, security doors with glass inserts can be the perfect solution. In fact, our systems can be studied with top or side-to-side lights and with transparent sections, which will give a deep sense of design to your door. There are also several options to modify the dimensions of the security front door, which, at the same time, will maintain high quality standards thanks to the use of our tempered safety glasses.
Armored door locks
In addition to the single-panel frame made with steel, which is the solid and durable heart of our security steel products, the interior locks and other accessories will also contribute to the high resistance of our windows. In particular, some of the most important safety elements of our collections are: the clamps that wall the frame in the masonry, the steel hinges, the upper and lower closing dampers and the high security interior locks, which are also available with steel jaws, replacing the traditional bolts. What's more, all our models are completed with an anticlock device that avoids the opening of the shutter with the insertion of thin objects.