Modern interior doors
Doors have a double task within your house: they play a technical and functional role, while contributing to define the style of each room. If they play a powerful aesthetic and decorative function, during new constructions or renovation works, also the choice of finishes and accessories will become fundamental to identify the style of your home. In regard to the type of opening system, the swinging system can be defined as the traditional one, while the exterior wall sliding doors and the retractable ones are considered more modern and original.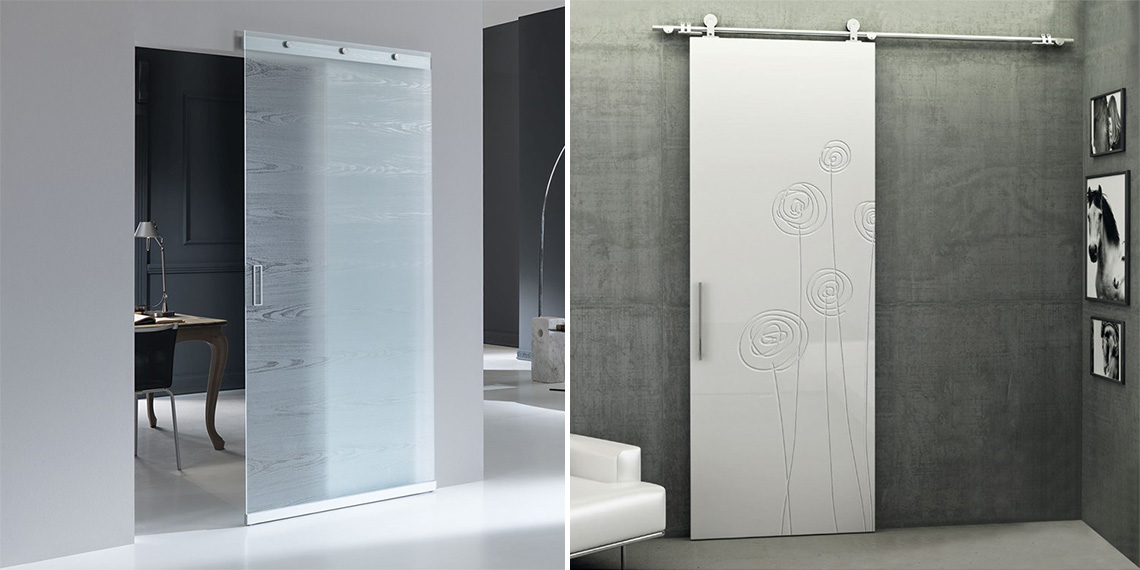 Sliding door mechanisms
Our production line of interior doors offers a wide choice of opening systems and many variants for the sliding solutions. The main feature of this kind of mechanism is the great visual and spatial continuity between the different domestic environments. The sliding doors avoid the waste of space and, thanks to that, your rooms will directly communicate. If the interior sliding doors "disappear" inside the wall once opened, thanks to a box installed during the renovation works, the exterior wall sliding doors have an external guide that allows them to move.
Sliding doors to view
Exterior wall sliding doors, unlike the disappearing ones, do not need construction works in order to be installed. Their translation mechanism follows, in fact, the same direction of the wall. To achieve this movement, doors are completed with a track, attached to the wall or to the floor, and the door panel, which can be opaque or transparent, smooth or decorated, according to the model you choose. This solution can be adopted when the wall is blank, without furnishings or other technical elements, such as sockets or light cables. In our catalog you can find a wide range of solutions of this type, which are different in design and materials.
Exterior wall sliding door kit
Each exterior wall sliding door is linked to a special kit for its installation and to an original range of accessories and technical items, such as lifters, metal profiles, handles and pins, which allow the mechanism to work perfectly. In order to install them as a work of art, our products must be assembled by skilled professional crews who, after the installation, will ensure the perfect sliding movement of the door. This mean to reach the perfect movement of the system, towards the planarity of the wall and the floor's development, which are two results that can not be achieved easily because of the complexity of this kind of solution.
Binaries for exterior wall sliding doors
Among the technical features of our exterior wall sliding doors, you can find the metal rails, made in aluminum or steel, according to the model you choose. In order to offer the greatest freedom to our customers' creativity, we have selected different types of sliding guide lines, equipped with several types of trolleys, different for aesthetic elements and shapes. We display them starting with simple and linear aluminum rails, perfectly matching with every type of door, including the most classical one, reaching options covered with tone-on-tone finish, passing also through more sophisticated solutions; these count the presence of "invisible" systems, which always remain hidden behind the door panel.
Sliding wooden doors
To clearly define the design of our exterior wall sliding systems, it's fundamental to pay attention while choosing the type of door and its finishing materials. Because of the fact that there are no accessories, frames or covers, sliding panels must become the main protagonists of your domestic environments. Wooden panels, studied in a wide range of essences, lacquered in opaque or glossy finishes, can be smooth or engraved with both classical and elegant details, as well as essential and modern elements. The opacity of the wooden doors will also allow you to keep the maximum privacy when the door is closed, which is the main lack of sliding doors made with glass.
Exterior sliding doors in glass
The glass panels, on the other hand, allow the light to pass through themselves, giving brightness even to the darkest domestic room. Our options of exterior wall sliding doors include wood and glass patterns, in which the crystal panel interrupts the opacity of the doors and creates a transparent effect that characterizes the panel; what's more we offer all-glass collections, complete of entirely glazed walls, studied with a modern and essential design. The temperate crystal of our products is available in a wide range of finishes, because the panels can be worked in so many different techniques. We display lacquered and colored glasses, extra clear and transparent, but also sanded and satin, both smooth and engraved or enriched by molten glass in watercolors.
External sliding doors wall prices
Using exterior wall sliding doors to give a new appearance to your domestic enviroment, also means to adopt non-traditional solutions, which inevitably have a higher cost. Our catalog offers many aesthetic and economical alternatives, which share a common factor: they are all high quality products with affordable prices. While visiting our stores, you can ask our staff for advice or information, in order to understand and appreciate all our collections; you will be able to find out more about color variations and finishes, different rails models and also price lists of individual lines.