Sliding doors for interiors
Sliding doors are space-saving solutions which are widely used during restructuring operations, in order to renovate buildings that contain traditional swing doors. Their great advantage is that they avoid the waste of space in every domestic premises. What's more, walking through different rooms will be easy and immediate, even if the respect reguarding your privacy will be always complied. Just think about your bathroom, usually small in size but rich in content: if you decide to buy a sliding door, you will ascertain the fact that it can give the most functional response to your needs.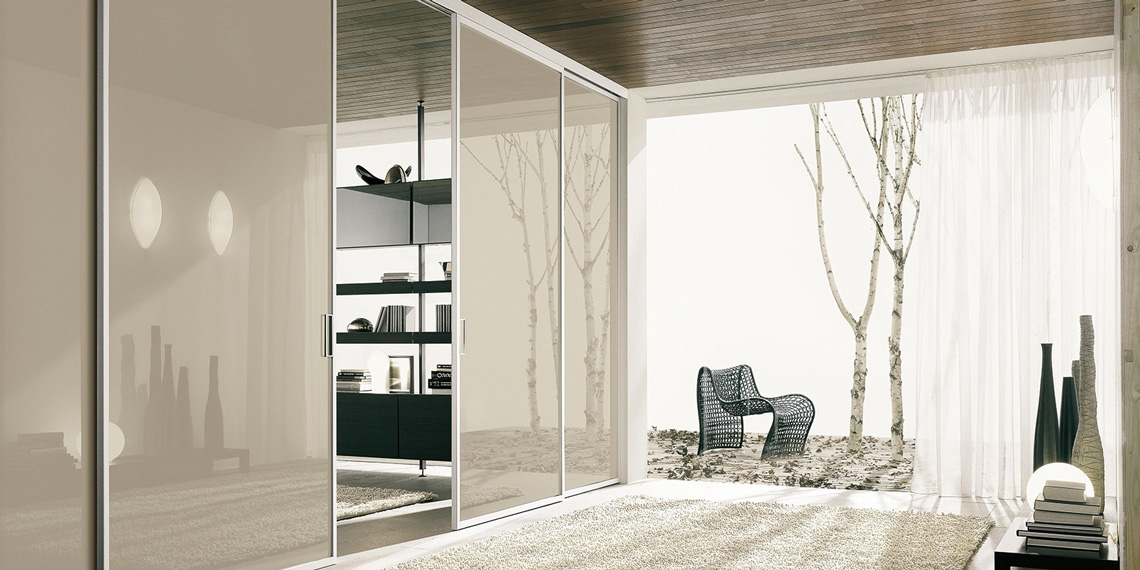 Exterior wall sliding doors
Thanks to our showcases of sliding doors, you will certainly find a wide assortment of products, which can suit your own style. In fact, we offer solutions in modern or classic style, made of wood or glass. Our catalog of internal sliding doors, which are divided into two large families, presents our retractable doors and sliding doors for exterior walls. The latter solutions do not require major renovation works, while their design is characterized by the features of the door leaf and the presence of the running track. What's more our selection of products includes different types of running tracks, in order to match with the shape and material of the door you will choose.
Sliding retractable doors
Our disappearing sliding doors, instead, need major restructuring works in order to be installed, beacuse they need a counter-frame inside the wall, which can be made in masonry but also in plasterboard. Our inner wall doors, that disappear fading into the wall once opened, allow you to save every single centimeter of space in your rooms. This type of solution can be designed with wooden or glass doors, suiting both a modern and classical style.
Sliding door dimensions
In our interior door stores you can discover always more about the range of sliding doors we offer. From the catalog you can consult all the available measures for each model. In general, the standard dimensions are: 80 cm wide and 210 in height; but you can also consider normal the fact that some doors have a lower width, such as 70 or 60 cm, or a highest one, such as more than 90 cm. In reguard to your specific needs, the standard size of our products can also be modified, in order to create a well customized door, suitable for every need.
Sliding wooden doors
In our company the leading production is focused on the creation of wooden doors, both in natural finish and in lacquered finish, both glossy and opaque. Our interior collections are divided according to their style, such as modern, classic or design, but also according to the type of opening system. Our sliding doors made in wood can be create in both types of sistems, sliding and exterior wall. There is also a wide range of finishes, which can be made with solid wood, essential surfaces, normal wood and glass, which is particulary suitable for separating the kitchen area from the living room or the sleeping zone of your house.
Sliding door frame
The set of materials which are fundamental in order to install our sliding doors includes, for the retractable opening systems, the presence of a counter-frame. Depending on the material in which the wall is made, it becomes necessary to choose the right frame type. In fact, there are structures for masonry walls and bins for plasterboard surfaces. During the restructuring operations the retractable frame can be installed in different moments. Our countertops only need the construction of an upper lintel, in order to be installed perfectly.
Price sliding doors
While you walk into our stores of internal doors, you will discover the substantial differences, that characterize our sliding doors, including their price. For example, the finishing materials deeply influence the cost of our doors. A door made with laminate will be cheaper than a door made with solid wood, such as a door made with lacquered wood has a lower commercial value than the same made with glass. Another substantial price difference is found on the dimensions of the doors, as well as on the choice of the type of track or sub-frame you want.
Decor Handles
At each door, in every room, the ideal handle is used: classic or modern, minimal and design. A full range of knobs, gloves and handles.
Glass Decoration
Transparent or satin white or colored glasses, extra glasses or cast glass: a range of proposals for a complete collection, enriched with engraved, sandblasted or hand painted decorations.
Sliding door handles
The door handles complete the aesthetic features of our products. The closing system of our sliding doors presents a wide range of complements, among which the knobs represent the focal point. In fact, inside our catalog, you will find a wide assortment of brass elements, available in different dimensions and shapes, as well as the more contemporary chromed handles, suitable for modern doors, or the peculiar solutions designed for doors in glass, ranging from the more linear shape to the more complex.