Glass retractable doors
Are you wondering why you should choose sliding glass doors for your house? There are al least two important advantages. The first one is the fact, that they can suppress any space problem in your premises, because the door opens fading into your wall, allowing you to walk continuously and easily through every room. The second advantage is that you will have the possibility to enjoy transparent or clear doors, which can deeply improve the brightness of your environments. Our sliding solutions, which disappear into your wall, will leave it completely blank, for the visual effect of a maximum cleanliness.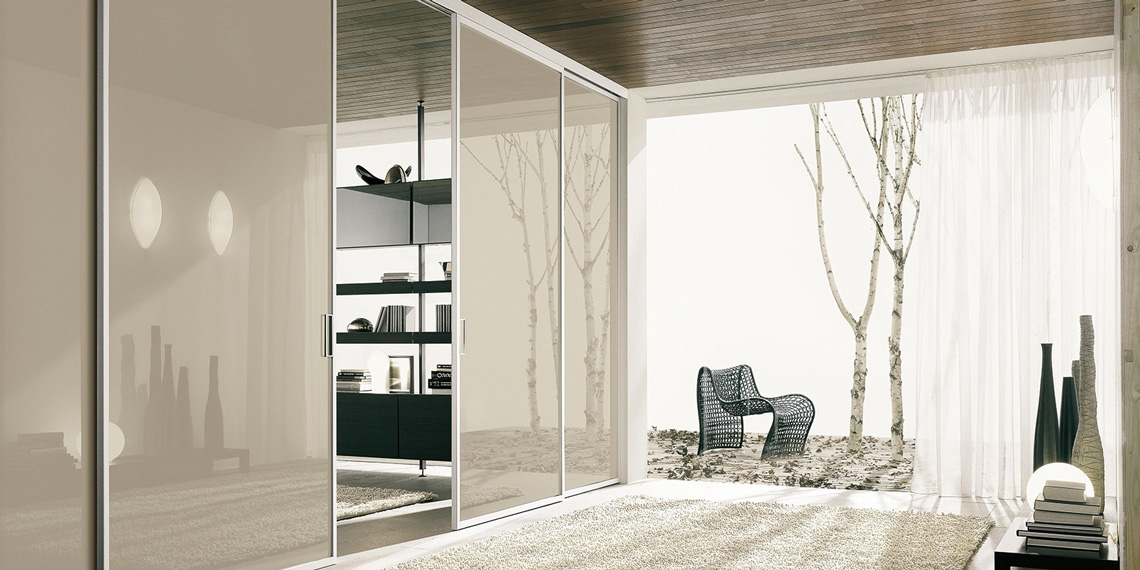 Sliding doors in exterior glass glass
In addition to our disappearing products, we also produce sliding doors for exterior walls made of glass, which, unlike the ones for inner walls, do not need restructuring works, beacuse they are sold with a single external metal rail; this can be wall-mounted or ceiling-mounted and guides the translation of the door. For that reason the wall wont need other frames and the aesthetic finish will be particularly minimal and modern. The customization of the various models is well explained in our catalog, which gives you a complete range the crystals we display.
Glass for sliding doors
To give the greates possibility of choice to our customers we have enriched our catalog of doors with a wide range of crystals we display. Our glass sliding doors, made with 8 mm thick tempered crystals, are safe and durable and can be ordered with clear or extra-clear glass for the maximum visibility; you can also choose doors with watercolors decorations of molten glass, for some particular effects of lines and colors. Other elements that can not be missing are satin or sandblasted crystals to give the environment a greater sense of privacy, without forgetting the importance of the lighting of your house.
Sliding door in satin glass
It is very frequent that who decides to buy a glass sliding door for its house, then chooses the satin crystals finish. In fact, saturated glasses, also called acidified, are affected by a permanent chemical process that changes the surface of the leaf, but leaves its technical features unaltered. The door is perfectly opaque, smooth and velvety. The transparency of the glass panel is removed but the passage of light remains guaranteed. This kind of door is perfect, in order to renovate every area of your house, from the kitchen to the bedroom. While reading our catalog, you can find every kind of colour and finish, suitable for every need or taste.
Glass door drawings
Our range of sliding glass doors is so wide because of the design and the structure of our doors, but also because you can choose the way your crystal had been worked. Our decorative glasses are so peculiar and they can be set in every model we display. In order to transform your glass in the main character of your house, we have selected a full range of decorations and engravings, which can embellish transparent surfaces. Our sanded and engraved doors with watercolors show artistic and creative decorations, regular lines and colorful wraps; clear and precise signs or sinuous and romantic ones, will then give your environments a special and suggetive charm.
Glass door costs
The price of sliding glass doors often affects the budget set for the restructuring works, but they are often chosen for a single room of the house. The fact that you can select a single crystal model to decorate your home, will help you to respect your budget. Inside our stores, in fact, you can clarify the cost of individual items, discovering differences between the price of our products. For that reason, you will be able to make conscious choices and to study, following your tastes and needs, your projects without breaching your budget with unexpected sums.
Sliding doors design
For those who, in addition to the brightness and continuity of domestic environments, want to enrich their restructuring project with aesthetic details, we have studied a line of peculiar sliding glass doors. Incredibly engraved glasses that recreate clean and essential lines, harmonious and natural shapes: there are lots of models in tempered glass in our catalog of interior doors. The type for exterior walls, which need our "invisible" track that follows the movements of the door without ever showing itself, is another perfect solution for projects with a powerful and essential design.
Modern glass doors
In our catalog there is also a range of modern-style solutions, which are modern but discreet. Our contemporary doors collection counts the presence of systems with wooden doors but also with glass panels, which have the power to define the aesthetics details of a domestic environment, always preserving visual continuity and the game of lights and shadows. The latest trends are focused on renovated spaces with doors made of glass, enriched with special handles and accessories and completed with almost invisible high quality hardware. Our sliding glass doors can also present a crystal plate inside the wooden door, an intermediate solution between transparency and opacity, in order to be combined with the same line of patterns, in both essential or lacquered finish.