Doors at home
The choice of interior doors is now, more than ever, dictated by style and finishes, as well as considerations about the types of opening systems and the doors' dimensions. For these reasons, we offer a wide selection of products, which can embrace different trends, colours and materials, so we are able to satisfy the most various aesthetic and practical needs. In order to complete the design of your house, the choice of the coverings certainly goes step by step with the finishes of floors and walls, and, in this regard, they are usually in clear shades; in particular, the white doors are the most appreciated for their chromatic neutrality.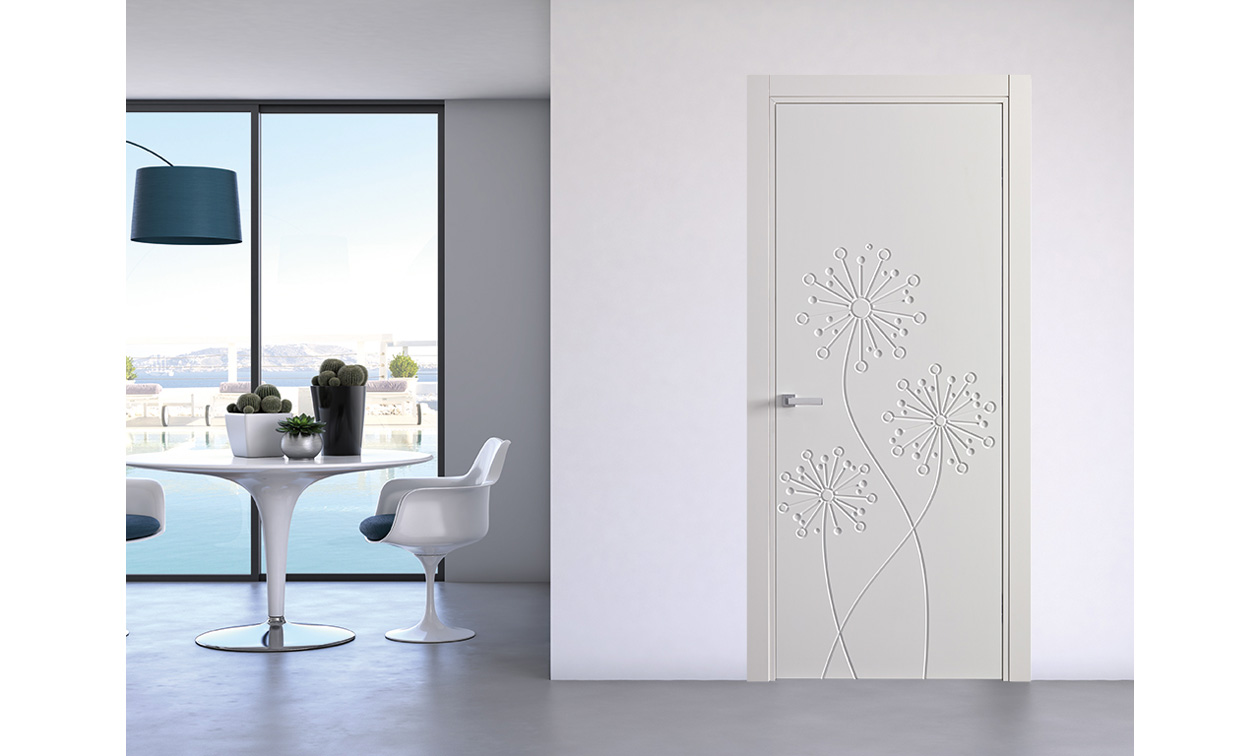 Interior door colors
If the white doors visually lighten the environment, leaving space for eccentric and important furnishings, on the contrary, the colored doors, even in bright tones, can create some particular color contrasts, which can characterize the style of your house. In the latter case, it is necessary, in order to avoid an excesses of details and a kitsh style, to work on color alternation between a maximum of two dominant elements, such as the finish of the doors and the tones of the floors. Even the coverings in natural essence are very appreciated, especially those in oak and ash, which can be in whitened shades or in clear and natural tones, suitable mainly for modern houses.
Modern white doors
Thanks to the great variety of models, grouped in our catalog, you can surely find the perfect color and style that suits your enviroments, within the high number of proposal for finishes and decorations, around which rotates every collection. Together with our light, versatile and discreet white doors, we also offer many variants: classical or modern, in lacquered or laminated wood, with a smooth or three-dimensional surface, engraved and decorated, completed with accessories and handles of different typologies. Only while visiting our stores, you will be able to discover the quality of materials we use and the variety of our solutions, even in terms of price.
White wooden doors
While getting straight to the heart of our catalog, you will notice that our production is divided into wooden models and glass doors, among basic solutions with synthetic finishes and more sophisticated designs, which can be costumized, in almost all cases, also in the version of white doors . Above all, our wooden models are appreciated in a total white finish. Solid, durable and robust products predominate the traditional and country style, while the lightest, with the stripwood grid or the honeycomb structure, are characterized by a wide variety of finishes, suitable for both modern and minimal style, as well as for the most decorative versions .
White lacquered internal doors
For those who decide to bend their design choices to neutral finishes, such as parquet floors of natural or lightened oak wood and walls in white tones, better opting for white lacquered wooden doors, which will be a simple and discreet decision in harmony with the finishes of the rest of the house. Choosing wood means lean on a stable material in structure, natural, durable over time, lacquered with coverings that ensure high strength and easy maintenance, as well as a variety of opaque finishes, open-pores or polished mirrors. Our working cycles include three coats of paint, while lacquers have been studied to be water and detergent resistant.
Cheap white doors
Our laminated doors also offer a huge versatility of choice and maintenance. Presented in the basic "family" option, our synthetic models move into a large variety of finishes and coverings. They can present lightened internal structures, made of stripwood or honeycomb structure, and external coverings in smooth or engraved laminate, which also hide the natural imperfections of wood and its pores. It is also possible to create cheaper white doors, which are aesthetically well refined thanks to the use of a special synthetic anti-scratch finish, called materik, which replicates the vains of real wood at sight and touch.
White book holder
In addition to the aesthetic considerations about the choice of decorations, engravings or drawings, to make your house perfectly functional, it is necessary to accurately identify the type of opening system of the doors, which introduce you to different domestic environments. The swinging system is certainly the most appreciated, but there are other space-saving solutions, such as the disappearing sliding doors or the folding ones, perfect for small rooms. For example, in the service rooms, such as storage rooms and bathrooms, adopting one among our folding white doors, that follow the color of your walls, is the perfect solution for a lack of space and for the search for homogeneity and visual balance.
White armored door
To complete the choice of the new doors for your house, one fundamental thing to be remembered is that you have to equalize with the rest even the covering of the front door. If this is directly in contact with other interior doors, you can choose the same finish and the appropriate style for all of them. What's more, for this reason, our armoured doors, apart from being certified and safe, are deeply customizable and declinable in one of the many models of our collections of internal doors. If you decide, for example, to buy some internal white doors, our security doors will be avaiable with a smooth, pantographic, lacquered or synthetic panel and covering, according to the selected model.