Crystal door for interior
The play of reflections and transparencies, the design and the games of light make crystal become the true protagonist of your enviroments: our glass doors divide domestic premises and, at the same time, allow the communication between different rooms, bringing a touch of originality within a sofisticated house. In our stores you will discover how we have "molded" glass panels, in order to turn them into high quality doors; then, with the help of our consultants, you will know the various models, the different opening systems and the endless decorative and chromatic variants, as well as the price differences among our furnishing solutions.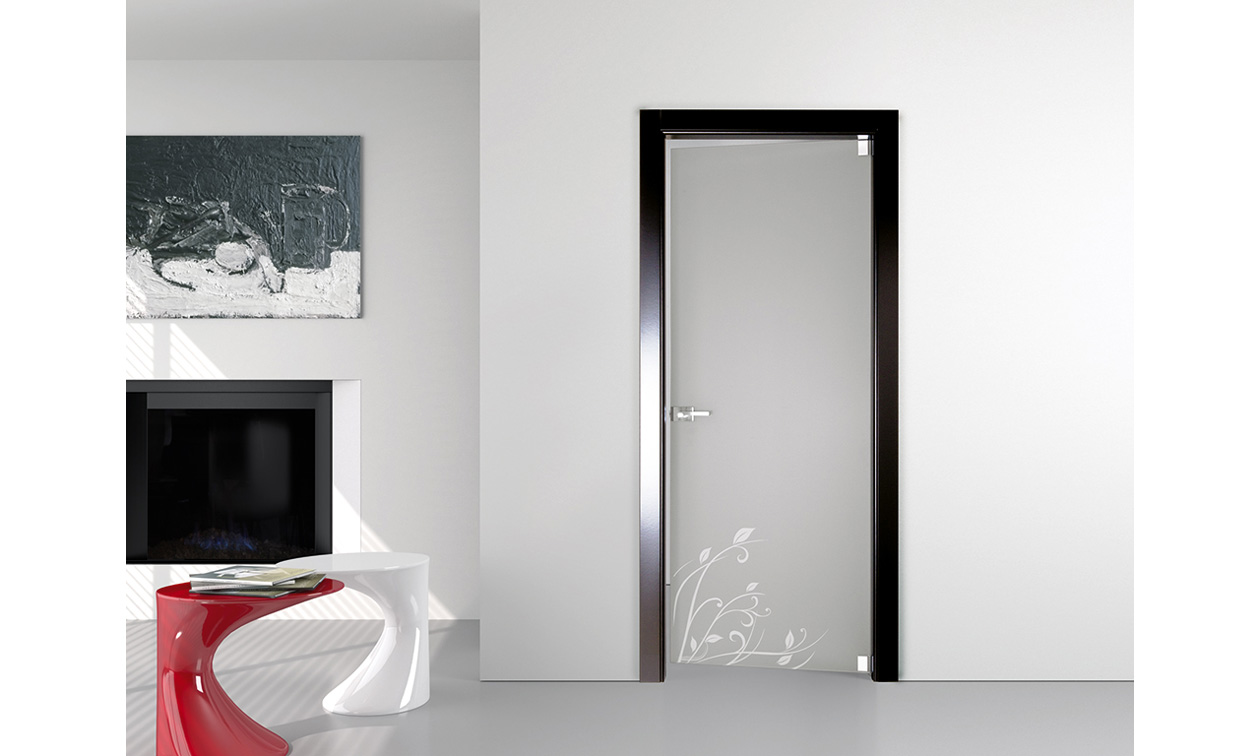 Types of glass for doors
Let's start from the most important feature of our glass doors. Our products are made with tempered safety glass, with a thickness of 8 mm. Tempering consists in a process based on the fact that glass, when subjected to a fast cooling, greatly increases its strength and durability. Choosing to furnish your home with the glass is synonymous of security, stability, aesthetic care and resistance, which are characteristics that never change over time. What's more, in terms of aesthetic details, there are many avaiable finishes: satin or sandblasted, lacquered or transparent, with a smooth or decorated surface.
Porte satinate
If you are searching for opaque glasses, in order to avoid excessive transparencies between rooms, we can offer two main solutions: sandblasted or satin glasses. The difference between the two types resides in the way the material had been worked. Saturated glass doors, also called acidified, are subjected to chemical agents that attack the surface, while eliminating its transparency. The result is a smooth, uniform finish, almost velvety when touched. Sandblasting is, instead, a mechanical process, which, as its name suggests, is based on the use of sand to reach a matte, but at the same time, rough finish, which may also result not completely homogeneous.
Swing doors
Creating continuity between domestic spaces, such as those within the living area, and looking for separation between them at the same time, is now possible thanks to our glass doors. Different in style, they can be realized with the most various opening systems. Surely, the easiest solution, if we consider the installation works, is to choose the hinged doors. Pushing or pulling glass doors, with handles on the left or right side, even though they occupy space while opening, will result light and thin. What's more, many of our crystal solutions are characterized by the presence of wood or, for the most minimal results, by completely blank glass panels.
Sliding glass doors
A worthwile alternative to the swinging door type is given by our sliding solutions. For those who have to restructure their houses, with the aim of optimize all the available space, the use of sliding glass doors allows also to reach greater luminosity results, for rooms that are small in size. The need to wall a box for this type of opening, obliges complex construction works, which consist in demolishing a double portion of the wall portion, if compared to the light passage, in order to incorporate the frame into the wall. On the contrary, the exterior wall sliding doors do not need masonry works, because their system is composed by an external track hung on the wall and characterized by the absence of architraves or jambs.
Modern glass doors
In this field, crystal becomes a fundamental decorative and functional element, which can give color, light and illumination to your environments. In our catalog we have divided our glass doors into two types, according to their style: classical or modern. Surely, all-glass solutions are perfect for a house of minimalist and contemporary spirit. The extra-thin glass panels, so essential that they are almost absent, and sandblasted glasses, engraved with regular lines and geometric segments, will tell you a story of youth and fashion. There is also a complete collection of glass and aluminum doors, in order to spread the spirit of that modern trend.
Internal aluminum doors and glass
The latter solution, namely the glass and aluminum doors, is a modern system with a huge design content. Imagine an open-space living zone which can be, according to your needs, spatially and visually divided or united, thanks to our exterior wall or double sliding doors, light and bright, born from the marriage between the radiant and thin metal inserts and the brilliant transparency of the crystal panels. This is just an example of what can be created with the different models of our collection. What's more, these solutions can be adopted in order to obtain a new wardrobe or to divide elegant and functional environments.
Decor Handles
At each door, in every room, the ideal handle is used: classic or modern, minimal and design. A full range of knobs, gloves and handles.
Glass Decoration
Transparent or satin white or colored glasses, extra glasses or cast glass: a range of proposals for a complete collection, enriched with engraved, sandblasted or hand painted decorations.
Classic doors with glass
The combination of glass and wood is fundamental in many of our classic-style collections. The wooden door, covered by soft and traditional lines, is crossed by luminous inserts and portions of safety glass panels, satin or transparent. They are also characterized by the use of essences in more traditional finishes, such as walnut, oak, tangany, or warm and neutral tones, such as ivory and white, which will give warmth and elegance to your environments. We have also introduced glass doors enriched with engravings and sandblasted decorations, that recall a classical designs, but you can also apply molten glass watercolors and small inserts to customize your house's style.