Types of internal doors
When you have to face some restructuring operations, a central factor that influences the functional and aesthetic results of our project is, without any doubt, the choice of internal doors. In order to move towards the wide range of commercial solutions we can classify them according to the material of the inner structure and the external finish, then we will find solid and wood doors as well as finishes in wood, glass or laminated doors. We can also distinguish them according to their style, whether classical or modern, or the type of opening system, folding or sliding, flush to the wall or foldable. Our catalog provides a great variety of high quality interior doors, products from an unique design, always offered at affordable prices.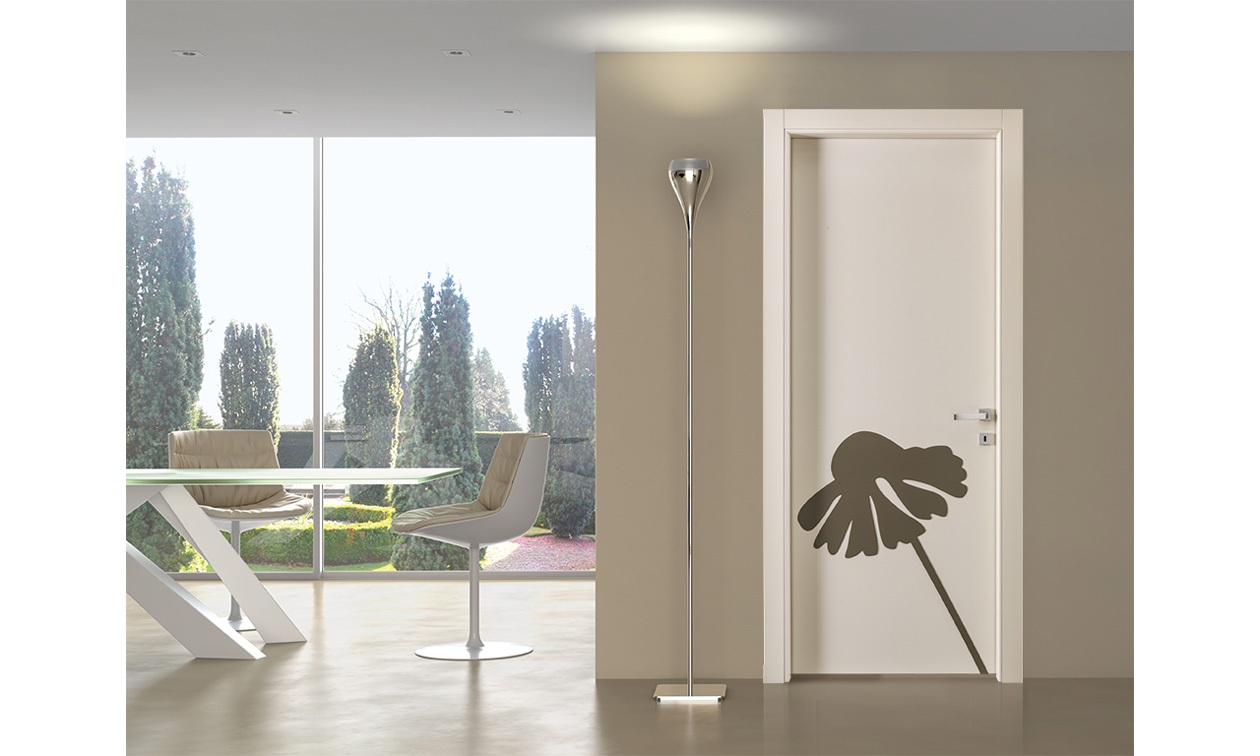 Lacquered or laminated doors
In order to make a first distinction between the different types of doors, we have to define which are the differences between laminated and lacquered interior doors. The lacquered doors are made of wood, both internally and externally, material that has to be painted more times in order to obtain the perfect colour and covered with glossy, opaque, or open-pores finish. The doors in laminated wood are made, instead, with a synthetic material with a limited thickness, applied on a wooden base, which can then be completed with any aesthetic detail, imitating the many different natural essences.
What's the laminate
In particular, the laminate panel is the result of the bonding of several thin sheets of paper, impregnated with resins. The quality of the material depends fundamentaly on the substances used for its realization. Certainly, it must be said that both low-quality products and high-quality ones are avaiable in the market. Nowadays, in order to avoid the purchase of low-level materials, the laminate has evolved, achieving high levels of resistance and surprising aesthetic results. Our laminated doors durability is guaranteed over time, thanks to peculiar expedients and certified anti-scratch finish. In our collections we use different types of laminate panels to create many different aesthetic results.
Internal ports cheap rates
Why should you choose our laminated doors? The reasons and advantages are different, from the scratch to the bacterial resistance, thanks to the very thin closing of the finish, which can not be ruined by any kind of dirt. Always thanks to its conformation, the laminated surface is also waterproof and for this reason suitable for damp environments or places that need a frequent cleaning. With regard to cleaning, the doors in synthetic material are also very easy to sanitize. What's more there are many aesthetic roles that resin sheets can play, not only on the visual but also on the tactile side and that makes our products particularly appreciated by our cotsumers. Last but not least, the economical side should not be underestimated, because laminated panels have competing prices, even if the quality of the material has nothing to envy from traditional wooden doors.
Laminated interior doors
In our stores you will be able to find out all our laminated wooden doors and know the many variants of shape and style, finishes and colours. In fact, we offer simple, smooth, compact and lightweight doors, but also more eccentric products, such as synthetic finishes that resemble true wood, which reproduce veins, fibers and pores from the different natural essences . There are many solutions that combine particular glass plates and bright metal sections. All these models are available in different opening systems and in many sizes.
Modern doors with glass
The glass we use to make our laminated door collection is a tempered crystal, complete of white milk finish, but also transparent or satin, smooth or decorated. The glass penetrates inside the door with the most different games of shapes, regular and geometrical, more harmonic and arched, but can be also added thin vertical sections of materials; in this way the laminate represents only the frame of the door. This peculiar feature allows you to give more brightness to your blind areas, such as hallways and corridors, and ensure visual continuity between rooms with similar functions, such as the kitchen and the living room.
Cheap sliding doors
As we have said before, to give you the greatest opportunity in order to customize your domestic enviroment, our company offers laminated doors in all types of opening systems. In addition to the traditional swinging solution, it is interesting, due to its versatility, the bidirectional opening system, which allows the typical opening of the classical saloon, thanks to its hinges. Very interesting are also the laminated sliding doors, which are avaiable in different sizes, with a height of 210 cm and a width ranging from 60 to 90 cm. To the advantages of the laminate, the sliding opening door adds another benefit: there will be no waste of space, while you can choose between the flush to kerb solution and the disappearing one.
Decor Handles
At each door, in every room, the ideal handle is used: classic or modern, minimal and design. A full range of knobs, gloves and handles.
Glass Decoration
Transparent or satin white or colored glasses, extra glasses or cast glass: a range of proposals for a complete collection, enriched with engraved, sandblasted or hand painted decorations.
Interior design doors
Who still continues to associate the concept of laminated doors with low-quality furniture solutions, will now have to re-evaluate its position by looking through the pages of our catalog. The use of laminated wooden frames, as well as tambourines, the more practical magnetic locks than the traditional ones, the telescopic chassis which can adapt to the different thicknesses of the walls, the retractable hinges that give the panel a minimal look, the selected raw materials and the special synthetic panels with realistic finishes "draw" modern doors; what's more, aesthetic details and durable materials are mixed with the benefit of saving you budget , thanks to our competitive prices.